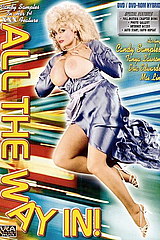 All the Way In!
Year: 1984
Director: Bob Chinn
Distributor: VCA
Country: US
Language: English
Length: 82 min
Actress: Lisa DeLeeuw, Candy Samples, [Facial] Shanna McCullough, (aka Shanna McCollough)Mai Lin, Tanya Lawson, [Facial] Martina Nation, Annette Linder
Actors: Ron Jeremy, Mike Horner, Eric Edwards, Francois, Rocky Rockhard, John Seeman, Bob Chinn, Pat Romano, Russ Meyer, Bill Wilson, Robert Garcia
Candy writes for a magazine column. She falls for one of her readers, and can think of nothing else. When the magazine comes under new management, the staff wants Candy to influence the new owner, but she can only think of her true love.